When looking for a new job, your CV will need to wow recruiters and show them that you're the best candidate for the job. But what exactly do recruiters want to see on your resume and how should that information be presented?
Keep reading as we offer you some helpful hints and tips to make your next job application a success.
Wow the hiring manager with a compelling cover letter
The first thing you need to do is persuade potential employers to open your CV. You could have the most well-written, relevant CV in the world on your hands but if it sits unopened in a recruiter's inbox, it's useless.
To ensure that a recruiter opens your CV, you need to draw them in with a compelling cover note. Keep your cover note short and sharp and demonstrate how your skills and work experience match the job description.
A cover note should be well written, free of any spelling mistakes and use a friendly, professional tone of voice.
Experience relevant to the job description
Once a potential employer has opened your CV, the first thing they will do is scan the first page of your CV for key skills and knowledge relevant to the job title. If your resume doesn't pass this initial scan, it's likely the hiring manager will put your CV down and move on to the next one.
To ensure your resume stands out from the crowd, make it easy to read by using bullet points, a clear simple font, break sections up with headers and ensure everything is in chronological order as this will make it much easier for potential recruiters to follow.
Job titles
Your current job role is the biggest indicator of your capabilities at this moment in your career so recruiters will analyse this section of your resume the most.
Recruiters will want to know things like:
Your current job role
Details of the jobs you do on a regular basis
Who you interact with (customers, stakeholders, directors etc.)
Tools or software you use (MS Office, Autocad, Revit etc.)
Regular work you produce (Websites, Excel documents, Marketing content etc.)
Key achievements
Relevant skills or online courses you've completed as part of your employment
By writing about your current job role in detail, it helps to give the recruiter all the information they need about your work ethic and personality. Previous roles and work history should be condensed to save space on your resume.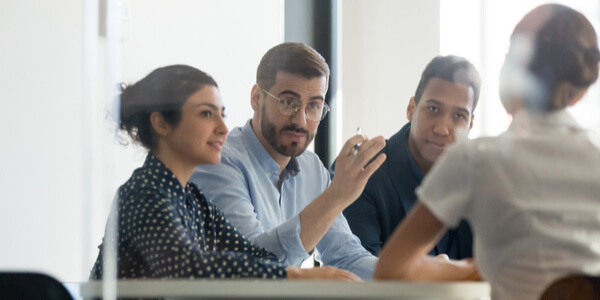 Hiring managers look for key achievements
Facts, figures, and key achievements allow recruiters to understand your added value because they give them an idea of the work you've been involved in and the impact of your involvement.
Bullet points that include numbers and key data help to quantify the results you have achieved for yourself, employers, and clients.
When writing your CV, try to add some measurable achievements for example:
Completed all design projects on time coming in 10% under budget.
Found two design flaws in ongoing projects, preventing failure of project.
Produced 2D and 3D visualisations that supported the company in winning a €500,000 contract.
Education and training
Recruiters need to assess if candidates are qualified for the job they've applied for and listing any additional training you have completed such as online courses or lectures will help to show the recruiter that you are committed to learning.
Whilst you don't need to list every exam you've ever taken, it's important to tailor your CV for the job you're applying for. If you're applying for a position in the engineering sector for example it's important that your resume lists qualifications that you may have.
Up-to-date contact information
This one might go without saying, but you wouldn't believe the number of candidates that forget to put their up-to-date contact information on their resume. It's important to include your phone number (including country dialling code), email address and LinkedIn page (if you have one) so that recruiters can contact you about your job application.
You don't need to include any personal details such as date of birth, driving license status or address if it isn't relevant. Ensure you double-check all information is correct and test any links.
Correct spelling and grammar
Things recruiters love to see on a good CV is correct spelling and grammar. No matter how qualified you may be for the job, if your resume is laden with poor spelling and grammar mistakes then your job search won't make it past the first hurdle.
In fact, too many good resumes are let down because of simple errors.
Hiring managers are picky about good grammar and spelling, which is why they'll have no problems in making snap judgements based on a poorly written CV. This is often the reason a lot of the best-qualified candidates will miss out on jobs.
Personal statement
A personal statement at the top of your resume is the perfect opportunity to grab the recruiter's attention and sell yourself. You should aim to create a summary of how your skills match the job description and briefly explain your experience, education as well as a summary of why you're applying for the role.
On average, recruiters spend less than a minute scanning your CV, so make your personal statement count!
Your goals
This should fall under your personal statement section, and it serves as the ideal place to express what you're looking for. Don't be generic – show the employer how you want to progress your career. Ensure that all information is relevant to the position you're applying for.
Expressing your lifelong passion to be a designer won't do you any favours if you're applying for a role in supply chain management!
Hobbies and interests
Things recruiters like to see on your CV is your hobbies and interests, mostly because they're nosy but it also helps to give the person who is applying for the new role a personality.
While 95% of your CV tells the story of your career, the hobbies and interests section reveals more about who you are.
Benefits of including hobbies on your CV include:
Makes your CV more personal
Allows you to show voluntary and community-focused projects
Gives you something to talk about during your interview
Conclusion
Many job seekers stop themselves from being considered for a new role by making simple errors in their applications. The good news is that these errors can be easily fixed, usually by double-checking your CV prior to submission.
Remember, you should always tailor your CV for the position and country you're applying for – so what are you waiting for? With this advice, you could find yourself in an amazing new role in no time!